SERVICES
One stop for your liability claims needs
We provide a variety of services to ensure that you know all the information necessary to fight for your clients.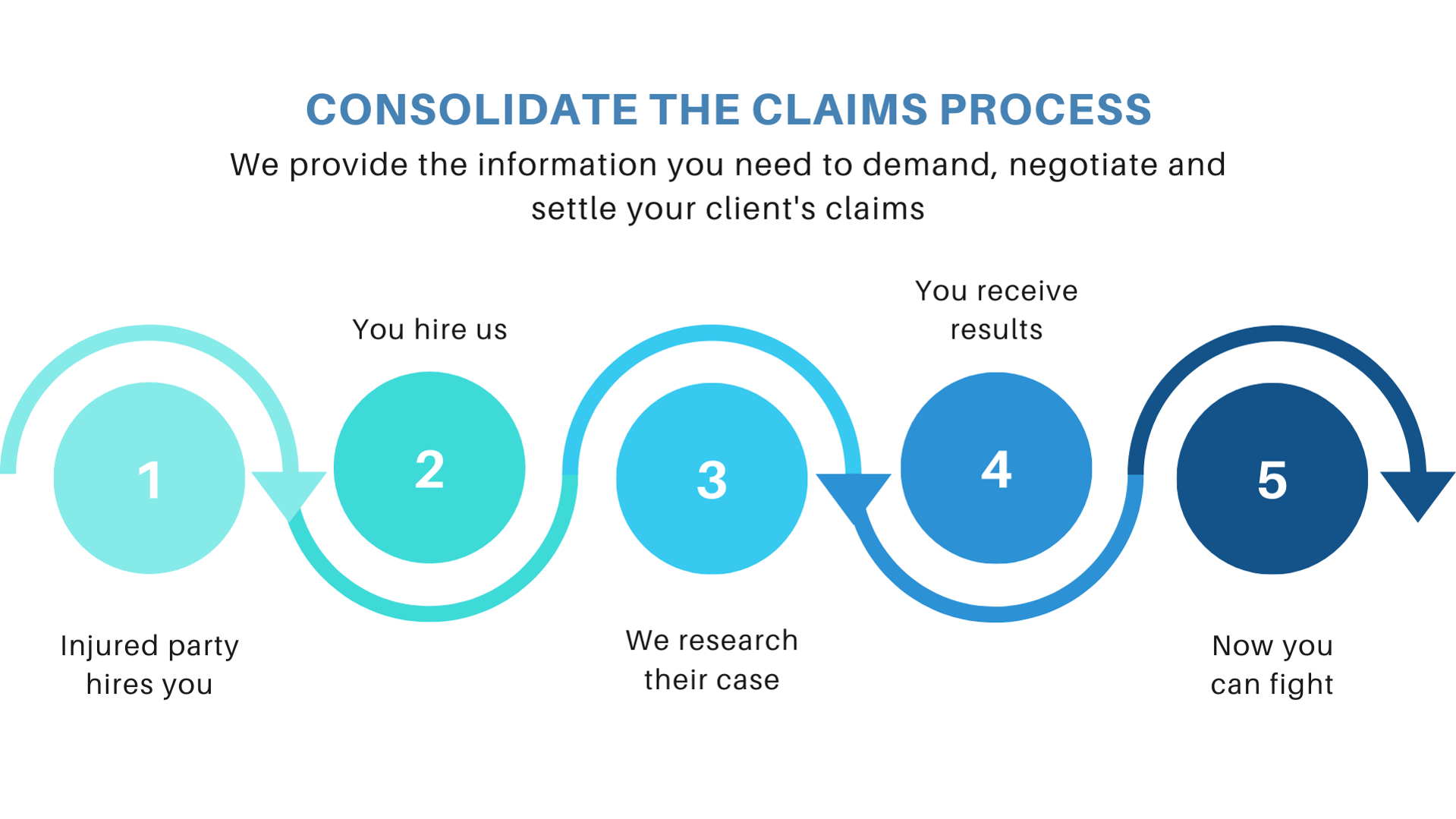 POWERFUL INFORMATION
Defend your clients with all the right tools
We provide security in understanding the complete ins and outs of your client's claims. Learn exactly what they are entitled to in as little as 6 hours, for a number of injuries and accidents.
We research car accident cases related to a number of causes including DUI's, speeding violations, wrong turns, negligence, and many more.
Did your client slip & fall at a residence? We will uncover the exact amount he/she is entitled to.
Dog bites can create a number of injuries, racking up the medical bills very quickly. Allow us to find the coverage limits of the at-fault party.
A wrongful death case can present with many stressors and emotions. We will discover what your client is rightfully owed in the event of wrongfully losing a loved one.
Just as with car accidents, motorcycle accident cases can be related to a number of causes. No matter what that is, we are here for you.
Bicyclists can be extremely vulnerable to accidents related to vehicles and negligence. When this happens, allow us to discover what your client is owed.
We have conducted a number of searches for attorneys whose clients are injured pedestrians. Medical bills and other expenses can become overwhelming very quickly- but they don't have to.
From abuse at in-home facilities to neglected maintenance at a residence, it is important to remember your options when representing a victim of such claims.
MAXIMIZE YOUR SETTLEMENTS
Ensure your clients get the most out of your representation
Imperative need

Customizable solutions

Flexible billing

Powerful results
Settle personal injury claims in a fraction of the time
Our services allow you to gain insight into your clients claim without wasting any time. Discover new solutions, create fool proof plans, and navigate the claims process with ease. We will meet your imperative need for information in as little as 6 hours with expedited processing.
Use only the services you need
Our research products are tailored to fulfill only the information you need, which means you don't have to worry about paying for what you don't. We have options to customize your results to give you exactly what you're searching for without the hassle.
Pay per search or bundle services
Whether you need every search we have to offer, or just one- we can bill you accordingly. We work for attorneys who prefer to be billed individually for each client they are representing, and some who prefer to have their entire firm's services on one invoice. Whatever your need may be, we are here to accommodate you.
Utilize our information to maximize your client's settlements
By partnering with us, you will finally be able to enter the claims process with full clarity and insight on your client's case. Ensure that your clients receive the most from your representation by utilizing every piece of valuable information available to you via our services. With Pacific Liability Research, your clients will have every opportunity needed to maximize their settlements.
FREQUENTLY ASKED QUESTIONS
Need clarification?
Is there really NO charge for no results?
There is absolutely no charge to you if we cannot obtain your requested results. However, it is important to note that a result of "No Coverage" or "Cancelled Policy" will be charged full price. This is because a search that results in these findings verified by the date of loss is still considered to be a successful result, even though we did not find applicable limits.
*Policy Existence searches require a nonrefundable $150 deposit in which you will not be reimbursed upon an unsuccessful search. If your Policy Existence search returns no results, there will be no additional fees.
If you have purchased a prepaid Research Bundle and receive unsuccessful results on a case, your credit for that search will not be used and you may submit another entry to satisfy your prepaid bundle purchase.
What if I don't know the at-fault party's insurance carrier?
If you do not know the at-fault party's insurance carrier, no problem! We will research your case as a Policy Existence request. This means that we will search all applicable data relating to the claim to uncover an active insurance policy on the date of loss. If results are found, you will be provided with the insurance carrier, the policy number, and the policy effective dates. This service does not include a search for policy liability limits, however you can request those for an additional fee.
What are specialty carriers, and why is there an additional fee?
Specialty carriers consist of a list of insurance carriers that require more extensive time and attention. Because of this, they are more expensive for us to research and will require an additional fee of $30 upon completion of successful results. These specialty carriers include:
AAA, Mercury, Farmers, Foremost, 21st Century, State Farm, and Bristol West.
We do not accept USAA or Wawanesa search requests.
Is there a money-back guarantee?
We will gladly refund your money upon verified proof of incorrect results. We stand behind our results 100% and aim for complete accuracy each and every time, however there may be instances of discrepancies between us and our third party data servers. In such instances, we will request that you provide us with a copy of the report indicating differential coverages. We will then rerun your search to verify our findings and locate the error.
What makes Pacific Liability different?
We are proud to be different, and proud to stand out! Pacific Liability Research is dedicated to ensuring accuracy, efficiency, and transparency in an industry that is often lacking those qualities. We employ a sure-fire method of data analysis, research, quality control, and customer service to ensure your satisfaction- every time. All of that, paired with competitive pricing and customization to provide you with endless possibilities in utilizing our service.
One stop for your liability claims needs